(Hey Sisters! Due to traveling and being with family, I don't have the next chapter of Our Story written…look forward to sharing, hopefully next week! Trust, this story from the past week will bless:)


I rolled my shopping cart through Wal-Mart two days before Christmas,
dazed and not feeling very close to the quiet I desired or the simplicity I craved. Struggling amidst travel and somewhat reluctant, dutiful gift buying and oh this homeless, sojourning state where none is settled and all is transitory.
And there she was.
With strawberry blonde hair I could not forget, I saw a tall beautiful young woman who nine years ago was a student in one of my geometry classes. I didn't know what to expect as I doubled back and called her name. She looked, figuring and then remembering 'YOU were my teacher.' 'Yes', I said, 'was a I Miss then, or had I married', not remembering. And then it clicked for us both that I taught her
that year.
That year was the year my mother was dying.
In its beginning I had rushed from the end of meeting my students on that first day to the (thankfully) nearby hospital where my mother was undergoing a five hour surgery to remove her kidney and all visible evidence of the massive tumor that had overtaken it. It ended with a two week 'leave of absence' during the last days of my mom's life and then her memorial service and burial. There was the brief return to administer finals and close up my classroom. And somewhere in the middle of it,
there she was.
Days were spent teaching and caring for mom, twin sister's wedding, mom's cancer in bones at the same time and
that year
was the biggest blur of my life. But, I did remember her, and her friends who were sassy and defiant and yes, did give me lots of trouble as I taught them something they didn't want to learn. And now, who was she nine years later? And so I asked because
there she was.
Maturity. Tremendous maturity. Becoming a mom earlier than I, her former teacher, had. This had a lot to do with it. Finding out that life isn't all about you. Searching for the deeper things. Studying to become a nurse. And now engaged to a young man who grew up in the church and still believes. She told me she does too, but doesn't know how to teach her son. I share how my tender-hearted three year-old grasps that Adam and Eve's bad choice (sin) makes it so we all have 'holes in our hearts' that only.He.can.fill. She is thinking and she wants to get it right. Mommy just like me—student turned peer. I see her for
there she was.
At multiple points in the conversation, as had happened eight and one half years ago, she asks forgiveness. She and three of her friends had come to mom's memorial service with notes in hand and given in the receiving line. With hugs exchanged, I read those words later. Words of realization in seeing my broken humanity in a year that stretched me beyond the bearing.
Their ugly had brought forth my own.
But there were no words for that, just the ones of their own rebellious defiance that would round out those school days only walked by His Grace. Asking forgiveness for terrible spewing behavior and taking life's frustration out on me. Only through His carrying me did I end each of those days and though in a failing, falling way, purposed to meet their eyes with forgiveness the next. I pray as we talk that she felt it even then before she asked for that balm of Grace at the first. I wrap her up in a big hug and Praise an Ever-Good God for
there she was.
I think of all she taught me then and still teaches. All is Grace and He Alone receives the Glory. That was a broken year and a broken woman gave a broken Jesus who in the pouring gives hope for the redemption of each moment. That she would see herself as the greater sinner amazes. As I parented in a very real sense over one hundred broken lives that year, and cared for a dying mother, and by His hope
'walked and did not faint'
the best I gave was a broken heart and no strength and somehow. somehow. He touched hearts and planted seeds that I see in this day nearly a decade later. For
there she was.
And there I am with heart full as intimate knowledge grasps tight. I see a God who is Everywhere inhabiting a messed up place with much disgrace on all sides and He smiles wide and forgives us all. He writes her story as He writes mine. And I marvel for
there she was. And over all that we walked and have since, THERE HE WAS AND EVER WILL BE.
Thank You Lord: (#456-477)
-for You are bigger than the deepest brokenness
-and Your life pours through the barely breathing soul
-You gave a wonderful surprise Christmas gift in seeing her
-You never fail to amaze
-You have been at work hard in redeeming life for this one for whom I prayed
-You chose to give an amazing peek at what Eternity will hold in lives touched long ago
and for Christmas joys:
-for blessed time with family
-for wonderful playful grandparents
-for cousins who love and are full of life
-for a son who knows JOY
-for a daughter who warms any heart
-for the chance to share at our church
-for the beautiful faithful who encourage us deep
-for a husband who is beautiful to hear
-for all you have taken us through in these last months
-for dear nieces with whom I am staying
-for SISTERS—so thankful to see my family after 10 days north!
-for laughter (Tim Hawkins style)
-for an early riser whose been sleeping in
-for MORE TIME and precious days ahead
-
for a chance to listen to Tim Keller sermons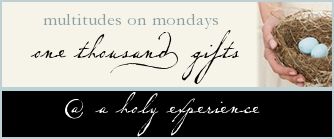 Linking up also with amazing women at Jen's